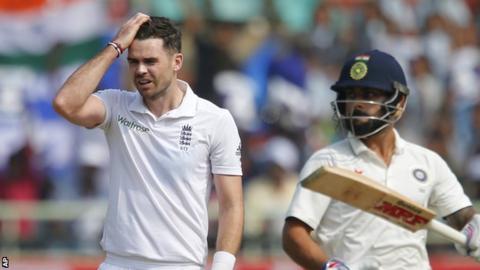 Bowler James Anderson has been ruled out of England's fifth Test against India in Chennai.
England's leading wicket-taker had been out since August with a shoulder injury before returning to play the second Test of the five-match series in India.
"It's a tough one. He is body sore from the Test match and we don't think he is worth the risk in this situation," said England captain Alastair Cook.
Anderson has taken just four wickets in his three Tests in the series in India.
Cook added: "If it was 1-1, we would probably take that risk but history over the last six months or so has shown us that, when he has played in these situations, injuries have happened.
"We need to look after him. He has got a big part to play for England cricket over the next 18 months or so. He is disappointed but I think it is the right call."
Fellow bowler Stuart Broad has missed the past two Tests with a tendon strain in his right foot and a decision on his fitness will be taken after practice on Thursday.
"Broady is fit and has a chance. He bowled at a local ground on Wednesday. It's great to have him back," said Cook.
England, having drawn the first Test, are 3-0 down in the series going into the final match.
Cook on captaincy
Cook, who said he had "questions" about his role as England Test captain after the fourth match was lost by an innings and 36 runs, will meet with director of cricket Andrew Strauss in January to discuss his position.
"It's a natural thing that happens with me and Straussy now," Cook, who has been captain since 2012, told BBC Test Match Special. "Often my future comes up and how we want to move forward.
"This would be no different to any of those other meetings and we are going to have to discuss what is the best thing for English cricket.
"You have to be very careful about decisions that are made in the heat of the moment that have a long-term effect on yourself and the team."
He added: "We've tried to knock it [the issue] on the head as many times as we can, but of course when you lose games of cricket it gets blown up."