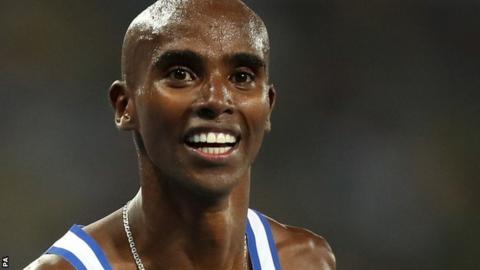 The doctor who gave Mo Farah a controversial supplement has told MPs that he failed to correctly document the treatment.
Dr Robin Chakraverty said the amount of L-carnitine was well within World Anti-Doping Agency (Wada) limits.
Dr Chakraverty said the substance was given to help the runner's performance.
He said he gave 13.5 millilitres of the legal supplement, below the maximum allowed of 50ml within six hours, by injection and not via drip.
The use of the substance, given to Farah before the 2014 London Marathon, is being looked at by the US Anti-Doping Agency (Usada) – which has called it an infusion – to determine whether rules were broken.
The injection was made in consultation with Farah's American coach, Alberto Salazar.
Dr Chakraverty, formerly the chief medical officer for UK Athletics (UKA), now works with the England men's football team,
He told the Culture, Media and Sport Committee on Wednesday there had been staffing cuts at UKA and he had been responsible for the healthcare of 140 athletes.
"It's an immensely busy job. Where we've had lapses is when you're on the road or travelling. If you don't record it straight away, which I didn't in this case, it can get forgotten," he said.
In March, the BBC reported that UKA staff may not have properly recorded the use of L-carnitine – a naturally occurring amino acid often prescribed as a supplement for heart and muscle disorders.
Ed Warner, the UKA chairman, told MPs that not recording injections was "inexcusable" although Dr Chakraverty said record keeping had since improved.
Salazar has been under investigation by Usada and UK Anti-Doping (Ukad) since 2015, following claims of doping and unethical practices made in a BBC Panorama programme.
Both Salazar and Farah have strongly denied breaking any rules.
More to follow.