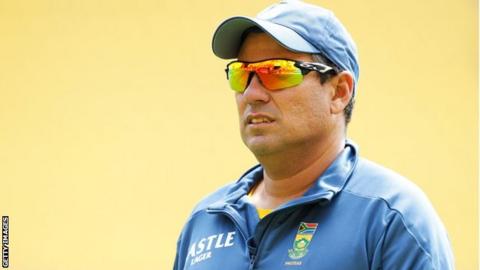 South Africa head coach Russell Domingo will have to reapply for his job if he wants to stay in charge of the team after their summer tour of England.
Domingo has been in the role since May 2013 and his contract ends in August.
Cricket South Africa have said they are "resolved to begin a recruitment process" as they look to appoint a head coach "through to the 2019 World Cup".
South Africa will play three one-day internationals, three Twenty20 games and four Test matches against England.
Domingo's side are currently ranked third in Tests, second in one-day internationals and fourth in T20 cricket.
The 42-year-old guided his team to a 3-0 Test series win over Sri Lanka earlier this month and a 2-1 away Test series success in Australia in November.
South Africa won the first of five one-day internationals against Sri Lanka on Saturday with a convincing eight-wicket victory at Port Elizabeth.
Sri Lanka were bowled out for 181 and South Africa reached 185-2 with 15.4 overs remaining with Hashim Amla scoring 57 and Faf du Plessis making an unbeaten 55.